Help us take the music into all areas of our city
The Leeds Piano Trail is bringing music back to every street corner this September as part of the 20th Leeds International Piano Competition.  The Leeds Piano Trailis an imaginatively decorated series of pianos placed in urban spaces which are available for public to play and enjoy.  Leeds Citizens , supported by Leeds Church Institute and Leeds Methodist Mission, are one of the partnering community groups that are helping to bring the music out of the concert hall and into all areas of our community.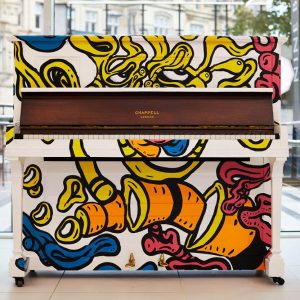 Our workshop is titled 'Power to the People' and will give us an opportunity to make our voice heard. We will be exploring ideas for the vision, hopes and messages that will be woven into the Leeds Piano Trail. The facilitated workshop will include music, creative writing and drawing and discussion.
This is the first of three workshops that will help shape city engagement in Leeds International Piano Competition. The second workshop on Wednesday 19th May, 6pm-8pm (Zoom), will offer a chance to 'Meet The Artist – Rosie Vohra'. Rosie is one of five West Yorkshire based artists who are working from studio spaces provided for free by the incredible East Street Arts to transform pianos into works of art.